Step by step AccessDiver tutorial. this are only made for Athena and Energy. This tutorial is for complete beginners. I want to . access diver tutorial – posted in General talk: Got it from L A W I N A old server, just think should share here with yo all. Even though i didn't. Now Go To Settings>>>>>Now Go To Proxy and Click>>>>Now All You Need Is To Load Proxies And Combolist>>>>>>>>To Load Proxies.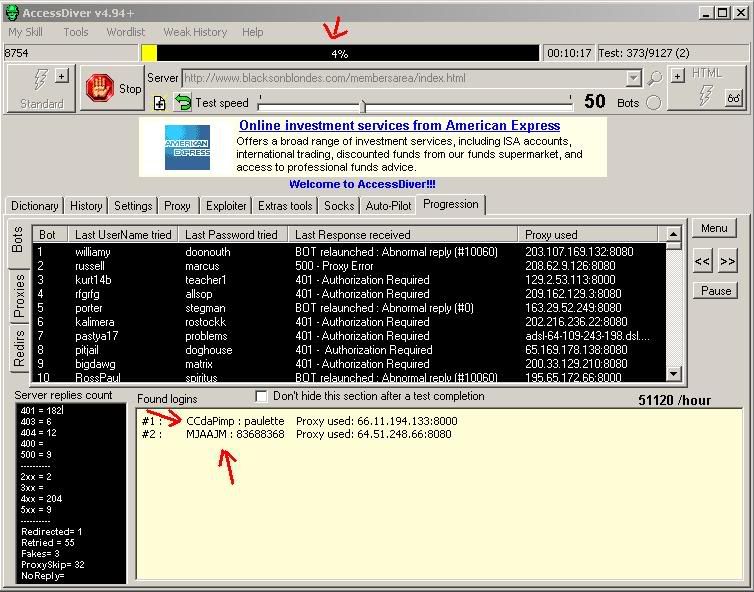 | | |
| --- | --- |
| Author: | Vuramar Shaktit |
| Country: | Equatorial Guinea |
| Language: | English (Spanish) |
| Genre: | Science |
| Published (Last): | 25 February 2005 |
| Pages: | 35 |
| PDF File Size: | 13.39 Mb |
| ePub File Size: | 14.50 Mb |
| ISBN: | 995-9-15228-276-4 |
| Downloads: | 73208 |
| Price: | Free* [*Free Regsitration Required] |
| Uploader: | Sarisar |
On the left side are server's responses. Each time you get a new proxy list you have to run the following procedure: Now click "Confidentiality tester".
It should never be used to attempt to gain access to a server owned or paid for by another individual. Some sites i have run as low as 1 bot.
access diver tutorial
I've included some of my own in Appendix II. Remember the higher the bots the faster the site might kill the proxies and you can receive more fakes which the way we set up AD means it kills the proxies also.
Now double click the ad icon. Just click on the check mark to remove the check mark.
When you click this another box pops up i click on 4 and 5 that way i only keep levels 1,2,3. This program uses a list of proxy servers to attempt to log-in to private areas with a long list of user names and passwords.
With a fast, functioning server and a good list of proxies, we should be able to attempt more than combinations of log-ins and passwords per hour. The first time you run Access Diver, make sure to set it to "Expert" mode by pressing F4.
We now arrive at the Progression screen; you'll be seeing allot of this.
Click "Add these proxies in Get a list from http: Now you should check anonymity od those proxies. It will keep adding the proxies it accessciver from your files. Certain sites need to be tested by the GET method, clubseventeen is one of them. Now, we need to see what else accsesdiver can find out about this website.
Now open the file. OK, it's time to set AccessDiver up. The higher the number of bots, the faster the attack, but you don't want to overload the server or the attack is useless. It will also install a shortcut on the main screen.
When you know from what you wanna leech, go to this menu:. Now you will need to save all of the highlighted working proxies.
Tutorial To Crack XXX Sites Using Access Diver ~ hackerunderground
Setting up Access Diver: If yes, it's probably proxy's fault. You're almost ready for cracking but you still need a wordlist. Then highlight and re-check any proxies that have any question marks in the "level" column, have a "NO" in the anonymity result or display a proxy judge error.
Sometimes AD screws up the tutoral time u run a site. The program we will be using is called Access Diver. Now go to the middle and click on " Settings ", tutofial the following options with a " V ": Once again, this will take quite some time with a properly long list. Here we come to the nitty gritty; Access Diver is a great program, but it's success will depend entirely on two factors; your proxy list, and your word list.
When done, right-click over proxies and choose "Delete everything non-operational and not anonymous". The second option is much better because you'll get many more accessciver than from those full of pop-ups and scam sites where most passes are repeating anyway.
If you want to do this, go back to the Proxy judge tab and select one or two different scripts. Please log in to reply. First up, this is pretty basic stuff; it's not "hacking", it's not advanced, and it won't work for anything like every website.
Then, go through your list and manually delete and proxy that has a question mark anywhere in the "Anonymous" column e. OK, Now you have a nice set of anonymous proxies I usually get between In the upper frame you see the current combos being tried and the current proxies.
Password Cracking Programs & Tutorials: Proxy Checker – Access Diver
Once again, you have the optional step of re-checking all the apparently non-anonymous proxies with different scripts. Go to where u saved it. However, standard security systems employed by most websites do not do this luckily for us.
You can also use individual lists, one for user names and one for passwords. This will highlight all the proxies and repeat.